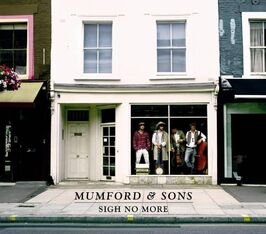 Sigh No More is the debut album by folk group Mumford & Sons . It was released October 5, 2009 in the UK, and on February 16, 2010 in the United States and Canada. The album has gone double-platinum in Australia, and has been certified platinum in the UK.
Sigh No More has four singles released:
Tracklisting
Edit
Sigh No More - 3:27
The Cave - 3:37
Winter Winds - 3:39
Roll Away Your Stone - 4:23
White Blank Page - 4:14
I Gave You All - 4:20
Little Lion Man - 4:06
Timshel - 2:53
Thistle & Weeds - 4:49
Awake My Soul - 4:15
Dust Bowl Dance - 4:43
After The Storm - 4:07
Personnel
Edit
Marcus Mumford - vocals, guitar, drums, mandolin
Country Winston - banjo, vocals, dobro
Ben Lovett - keyboard, vocals, organ
Ted Dwane - double-bass, vocals
Nick Etwell - trumpet, flugelhorn
Pete Beachill - trombone
Nell Catchpole - violin, viola
Christopher Allan - cello
Markus Dravs - production, "a nail and a piano string"
Tom Hobden - original string parts on track 5
Francois Chevallier - engineering
Samuel Navel - assistant engineering
Ruadhri Cushnan - mixing
Bob Ludwig - mastering
Ad blocker interference detected!
Wikia is a free-to-use site that makes money from advertising. We have a modified experience for viewers using ad blockers

Wikia is not accessible if you've made further modifications. Remove the custom ad blocker rule(s) and the page will load as expected.