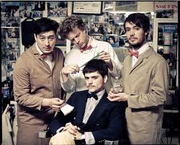 Mumford & Sons
are an English folk rock band that formed in December 2007.
Their debut album,
Sigh No More
, was released in the UK and Ireland in October 2009, and February 2010 in the United States. The album reached number one in Ireland, Australia and New Zealand and eventually peaked at number two on the UK Album Chart and the Billboard 200 in the US. The band's second studio album
Babel
was released in September 2012. The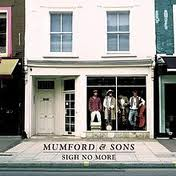 album debuted at number one in the UK and US, becoming the fastest selling album of 2012 in the UK, and the biggest selling debut in 2012 in the US.
The band gained popularity throughout 2010, performing for larger audiences and making their first network television appearances in the US. On 1 December 2010, the band received two Grammy Award nominations, one for Best New Artist and the other for Best Rock Song (Little Lion Man). The ensuing live performance at the Grammy ceremony in February led to increased airplay and popularity for singles from Sigh No More. The band won the ARIA Music Award for Most Popular International Artist in 2010, and the Brit Award in 2011 for Best British Album. Furthermore, in 2011 they received a European Border Breakers Award for their international success.
Here is a list of songs covered or written by Mumford:
Sigh No more:
Sigh No More
The Cave
Winter Winds
Roll Away Your Stone
White Blank Page
Little Lion Man
I Gave You All
Thistle and Weeds
Timshel
Awake My Soul
Dust Bowl Dance
After the Storm
Babel:
Babel
Whispers in the Dark
I Will Wait
Holland Road
Ghosts That we Knew
Lover of the Light
Lover's Eyes
Reminder
Hopeless Wanderer
Broken Crown
Below my Feet
Not With Haste
For Those Below
Where Are You Now
Extras:
Home
The Boxer (cover)
England (cover)
Unfinished Buisness (cover)
Liar
Sister
Hold On To What You Believe
Feel The Tide
Where is my Heart
The Banjolin Song
Dance, Dance, Dance (cover)
I'm on Fire (cover)
Not in Nottingham
Tessellate (cover)
To Darkness
The Enemy
Don't Think Twice, It's Alright (cover, Justin Young and Marcus Mumford)
You Ain't No Sailor (Marcus Mumford)
All of which I thoroughly recommend listening to...