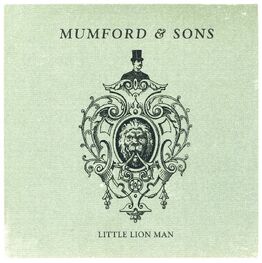 Little Lion Man is the seventh track and debut single for Mumford & Sons , off their debut album Sigh No More .
Thoughts On The Song
Edit
About the song Marcus Mumford has said:
"It's a very personal story, so I won't elaborate upon too much. Suffice to say, it was a situation in my life I wasn't very happy with or proud of... and sometimes when you can't describe a feeling with your own words, it's almost easier to express in a song. And then, when you get asked about the songs, it's quite difficult to explain. It's a conundrum - you don't want to seem self-indulgent explaining yourself; it's always awkward. Which is weird again, because it's never awkward actually singing them. I suppose the song should stand on its own and people draw their own interpretation from the words. But for me, personally, it's the lyrics that I listen to again and again in a song. I place specific importance on them. I can't write lyrics unless I really feel them and mean them, which can sometimes be quite frustrating - because if you're not feeling much at the time, you're stuck. I guess the sound of it grabs you a little bit by the balls - it's quite an aggressive song, a bit more of a punch in the face. Or at least, for our stuff, anyway - a lot of our stuff isn't quite as hard-hitting as that. It felt like the right song to be the single because it represented the harder, darker side of what we do, and at the same time, the more folksy and punchy side."
Tracklisting
Edit
Little Lion Man - 4:06
To Darkness - 4:42
Weep for yourself my man
You'll never be what is in your heart
Weep little lion man
You're not as brave as you were at the start
Rate yourself and rake yourself
Take all the courage you have left
Waste it on fixing all the problems that you made in
Your own head
But it was not your fault but mine
It was your heart on the line
I really fucked it up this time
Didn't I, my dear
Tremble for yourself my man
You know that you have seen this
All before
Tremble little lion man
You'll never settle any of your scores
Your grace is wasted in your face
Your boldness stands alone among
The wreck
Now learn from your mother or else spend your
Days biting your own neck
But it was not your fault but mine
It was your heart on the line
I really fucked it up this time
Didn't I, my dear