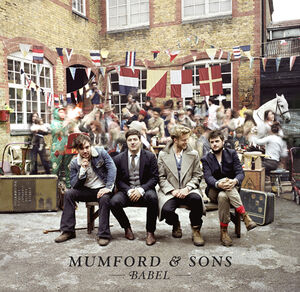 Babel is the second studio album by the British indie folk band Mumford & Sons, and it was released in 2012.
Babel debuted at number one on the UK Album Chart and the US Billboard 200. It became the fastest selling album of 2012 in the UK, selling over 150,000 copies in its first week, and was the biggest selling debut of any album in 2012 in the US, selling 600,000 in its first week. It has been voted as one of the Best Albums Of 2012 . It also won a Grammy for Best Album Of The Year in 2012.
Tracklisting
Edit
"Babel"
"Whispers in the Dark"
"I Will Wait"
"Holland Road"
"Ghosts That We Knew"
"Lover of the Light"
"Lovers' Eyes"
"Reminder"
"Hopeless Wanderer"
"Broken Crown"
"Below My Feet"
"Not With Haste"
Personnel
Edit
Marcus Mumford – vocals, acoustic and electric guitars, drums, tambourine, percussion, mandolin
Ted Dwane – vocals, electric and string bass, acoustic and electric guitars, drums, tambourine, percussion
Ben Lovett – vocals, piano, keyboards, organ, accordion, drums, tambourine, percussion
Country Winston – vocals, banjo, mandolin, dobro, electric bass, electric guitar
Chris Alan – cello
Nell Catchpole – violin, viola
Nick Etwell – trumpet, flugelhorn
Ross Holmes – fiddle
Dave Williamson – trombone